In collaboration with local metal-crafting artisans, Kiefer Landscaping has the capability to create "one of a kind" water features beyond rival.   We can design and construct custom fountains in stone, brick, tile, and metal combinations to elicit whatever sensation you wish to create.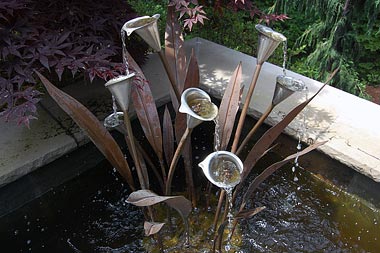 Our skilled staff masons can construct most any formal pond or reflecting pool you can imagine.  Just give us a few example photos of what you want and we can construct it. Or, leave it up to our designers to create something completely unique.
We also install free standing cast concrete fountains in traditional or whimsical styles.  You can choose to have them installed with or without collecting pools or hidden sumps beneath.